Exciting news!
Posted on 12th March 2021
We are pleased and proud to announce that the People for The Ethical Treatment of Animals (PETA) has given us an award for our pioneering and groundbreaking work to find a humane solution to pest control.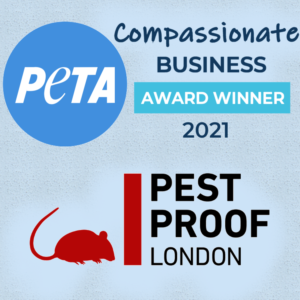 Not only do we not harm rodents, but we offer a 12 month guarantee on our work, giving our clients peace of mind and ensuring their homes and businesses are free from infestation.
We have a perfected, tried and tested, non-lethal effective solution to the problem of rodents in home and businesses.
Contact us for help with your rodent problems! We are based in London but have clients all across the South East. There is a kinder way, and we have proven this.